Our next event:
"Finding Family: Searching for Answers"
presented by Life Lessons: The Wm. & Margery Sadowsky Center for Adult Learning
Tuesday, April 30, 2019
7:00 PM
Springfield Jewish Community Center
[Register at research@wmjgs.org or with JCC at 413-739-4715.]
__________________________________
Other future events:
"Jewish Genealogy for Beginners"
(and a review for the rest of us)
Wednesday, June 12, 2019
6:00-8:30 PM
Forbes Library, Northampton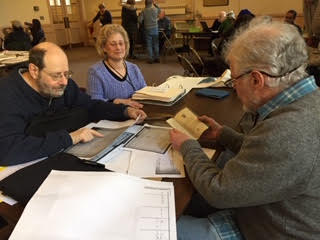 Recent events in 2018-2019:
Finding Your Roots: Jewish Style
Sunday, February 10, 2019
Congregation Sons of Zion, Holyoke
---------------------------
Jewish Genealogy Resource Fair
Sunday, January 6, 2019
Jewish Community of Amherst
---------------------------
Presentation by Alan Suchat: "Life Under the Tsars"
Sunday, September 30, 2018
Springfield Jewish Community Center
-------------------------
Finding Your Roots: Jewish Style
Wednesday, June 20, 2018
Forbes Library, Northampton
-------------------------
Introduction to Jewish Genealogy
Sunday, April 29, 2018
Greenfield Hadassah
Temple Israel, Greenfield
-------------------------
Finding Your Roots
Tuesday, April 24, 2018
UMass Hillel, Amherst
-------------------------
Finding Your Roots: Jewish Style
Sunday, February 4, 2018
Springfield JCC