At some point, someone in the family may ask, "Who are we?" or "Where are we from?" or "What was life like for our ancestors?"
Perhaps it is time to begin to construct your family tree.
Perhaps you would like to find living cousins who have the same ancestor.
We promote an interest in Jewish genealogy.
We instruct members in research and methodology.
We provide opportunities to share Jewish genealogical information.
You can also sign-up for membership here on our website and find a few links to area research resources.
Our next event on Tuesday, April 30th:
[Register with WMJGS or JCC]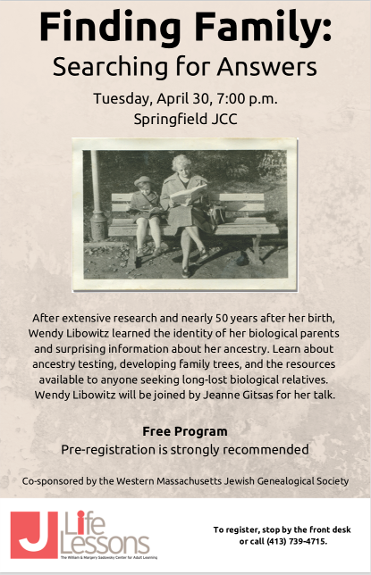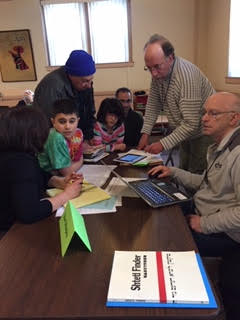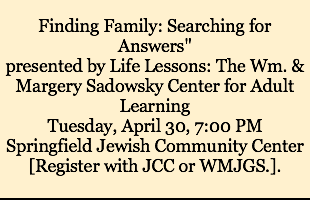 --------------------------
Recent events in 2018-2019:
Finding Your Roots: Jewish Style
Sunday, February 10, 2019
Congregation Sons of Zion, Holyoke
--------------------------
Jewish Genealogy Resource Fair
Sunday, January 6, 2019
Jewish Community of Amherst
-------------------------
Presentation by Alan Suchat: "Life Under the Tsars"
Sunday, September 30, 2018
Springfield Jewish Community Center
-------------------------
Finding Your Roots: Jewish Style
Wednesday, June 20, 2018
Forbes Library, Northampton
-------------------------
Introduction to Jewish Genealogy
Sunday, April 29, 2018
Greenfield Hadassah
Temple Israel, Greenfield
---------------------------
Finding Your Roots
Tuesday, April 24, 2018
UMass Hillel, Amherst
-------------------------
Finding Your Roots: Jewish Style
Sunday, February 4, 2018
Springfield JCC